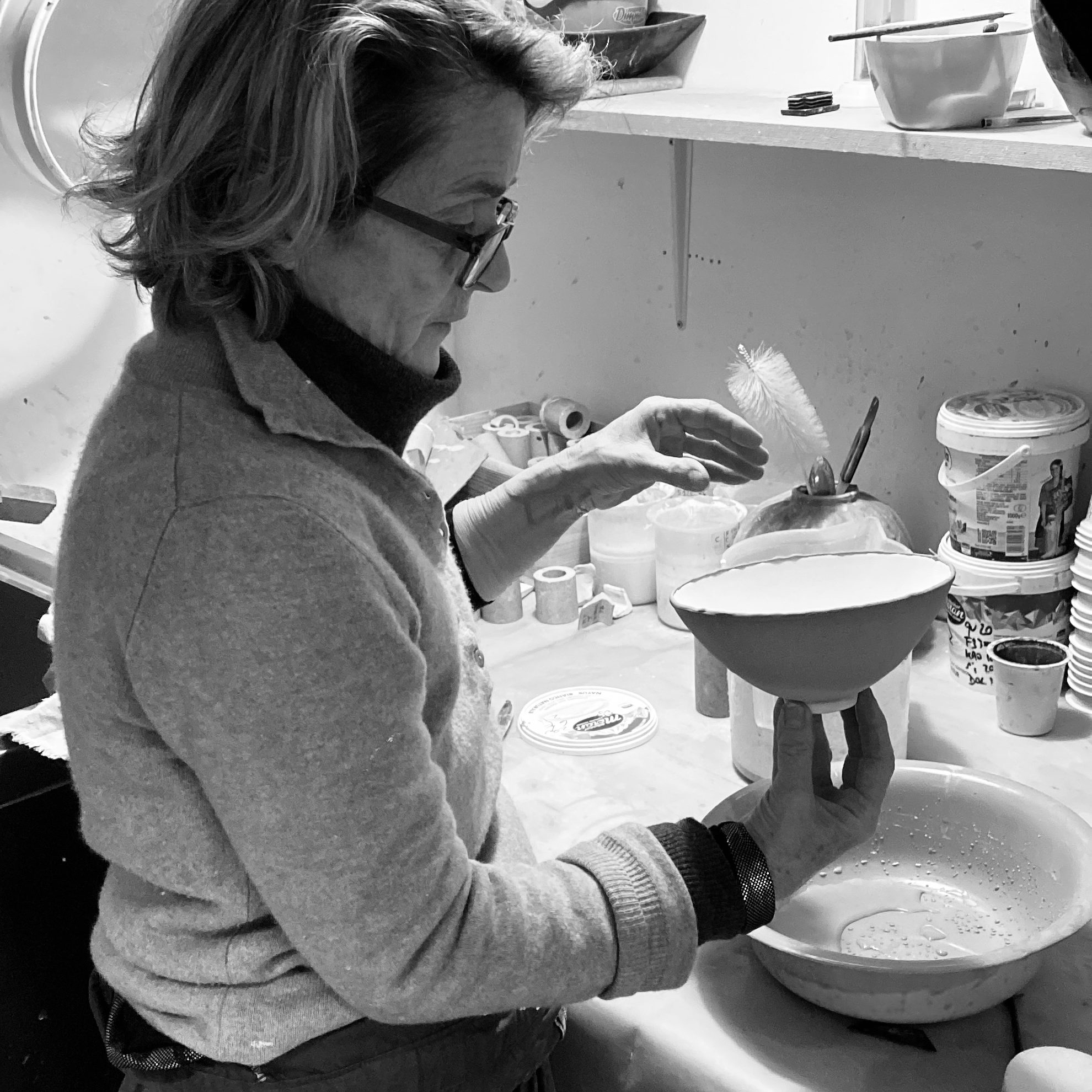 Adele Stefanelli is an Italian ceramist who has developed a strong passion for the material throughout her life. Her ceramics studio is located on Giudecca, in the artistic district, near Venice.
The works created by Adele Stefanelli carry a strong oriental imprint, influenced by Chinese and Korean ceramics. The simple beauty of Song ceramics in China and Goryeo and Joseon in Korea have always been her landmarks.
She has worked as a ceramicist until 2003, when she decided to turn her life around, resuming her studies. In 2005 she received her Master degree in interpretation from the University of Geneva and later worked as an interpreter for the European institutions in Brussels, abandoning ceramics for a long time.
After years of distance from clay, glazes and kilns, the old passion began to resurface, and she gradually went back to pottery.
Her training path was marked by the travels she experienced in different parts of the world, the books she collected and the people she met. Her stay in China, in Jingdezhen, allowed her to learn in depth the techniques and secrets behind the working of porcelain.
She also spent time in South Korea, working with Master Kim Se Yong, from whom she learned additional valuable knowledge.
Also in China she had the opportunity to make her own the art of Kintsugi, which consists in repairing broken ceramics with pure gold. Private courses with Mio Heki in Kyoto, Japan, allowed her to refine the ancient Japanese technique.
Adele Stefanelli makes every work on the lathe, along with glazes and ancient Chinese and Korean recipes that are characterized by the use of ashes of different plants. Stoneware and porcelain are her main processes. The results give life to bowls, plates and vases.