Avoid this, five tips for your perfect Christmas table
Avoid this, five tips for your perfect Christmas table
How to design your own Christmas table with collectable tableware, quality fabrics and dreamy centerpiece
 Christmas is coming, along with the memories and traditions that are collected year after year. Each person thinks about this holiday in a different way: from decorating the tree, to the Christmas decorations all around the house, choosing gifts and setting the table. Simple and elegant tablecloths or colorful and decorated, plates with a classic and refined taste or with funny illustrations... There are so many styles, which will be the one for Christmas 2021?
1. In search of your Style
Setting the table with a clear idea of the style you want to adopt is the right method to avoid indecision. Once you have chosen your style you can let your imagination run wild, creating combinations that match the idea you have in mind!  The classic christmas table can be very versatile in terms of decorations that can be placed on it. Considering its composition, a white porcelain service, with an underplate of the same shape as the flat plate, followed by a plate for the main course and a small plate for the starter. The choice of silverware can add character to the table, opting for gold cutlery or cutlery made from special materials such as bone.  A more romantic and fairytale style allows you to play more with decorations and colors, with no constraints whatsoever. While the country table creates the perfect combination with the christmas spirit, if you want to opt for a holiday in a chalet, with the snowy scenery.
Balance the colours to find the perfect harmony, helping to create a mise en place that is pleasing to the eye. A classic christmas combination is the red tablecloth with ton sur ton elements or the search for contrast through the use of different colors.
Forest green is another perfect choice for the tablecloth, an expression of the Christmas spirit. Fabrics are just as important, giving depth and movement to the table with different textures. Use linen and silk to enhance the tableware or opt for an embroidered napkin that is just waiting to be looked at.
The uniqueness of the centrepiece is that touch that can complete the table, making it original and consistent with the style you have chosen. A personal touch can make it unforgettable. How can you do it? By adding small decorative elements such as pine cones, berries and branches that reflect the christmas atmosphere. Candles can also enhance the christmas table, such as the 1001 light collection, which has several candles that can be placed in the centre of the table. Play with the different heights and decorate the surface with your favorite christmas decorations. A candleholder can also have the same effect. We recommend one that will surprise you, especially if you love white and your christmas tree is strictly total white. 
4. Plates and Glasses for all tastes
Which plates and glasses should you choose for your table? A particular tableware set may be what you're missing, especially if it's festive, which is why it's always useful to consider some purchases as small investments. Because there may come a time when you will want to replace that particular set, putting it on sale on Akiréh.
BUY, SELL and RELOVE are concepts that lend themselves very well to the world of home decoration, especially from a circular and sustainable perspective.
Classic plates, made of white porcelain, are definitely the safest choice, especially when the table is very fancy and full of decorative elements. They can easily be combined with glasses with a golden profile, which are very elegant and at the same time timeless. 
Illustrated plates are also decorative items, especially if you are looking for an eye-catching set with Christmas tones. A different solution that attracts attention. Why not combine them with glasses that are just as special, with reliefs that enhance their manufacture. 
It is essential to serve the dessert on a suitable plate, it is the finale of a good evening, so a floral touch such as a more classic one or one with golden details should be chosen with great care.
Now is the time to think about the mise en place, one of the best times to let your creativity run wild! We have seen what elements to consider when setting the table, the sets must be consistent with the style used, but at the same time respond to your tastes and your Christmas spirit. 
The image below illustrates how a table should be set.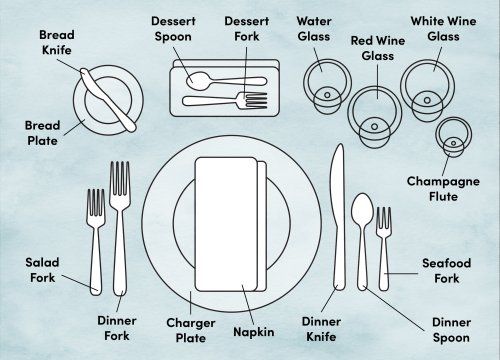 No one is stopping you from creating a different combination, thanks to unique mixes and giving space to your favourite glasses! Don't forget to take a photo of your table and share the result with us by tagging us on social media @akireh__.